Discipleship - Walking with the Lord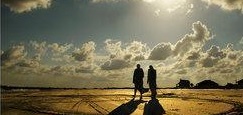 Jesus Christ saved us - not only FROM something (sin, death and devil) - but also FOR something: A relationship with the Creator God and Himself, our Lord and our God. Once broken, now it's a mended relationship. And it's eternal. We respond to His love for us with our love for Him.
Like in any relationship there is the possibilty to grow and mature in it. We desire a strong faith and a faithful life as disciples of Christ. So, we invite you to explore ways to broaden your spiritual horizon. See also our children's page.
We look forward to growing together with you in the love of Christ!

Daily Discipleship Blog
Devotions, Facts and Food for Thought... The posts from our former Pastor, Matthias Tepper, vary in length and cover a divers number of topics. Follow the link or click on image.

Next Steps on the Discipleship Journey
Being a Christian is not static, but dynamic and an adventure. We'd like to show you catalysts that will help you grow in your faith. Email Pastor to discover together your next steps.

Resources for Christians
Following this link you will find material, prayers, lists of important Bible verses and much more that will help you in your daily life with Christ.
Christian Resources

Sermons Online
Listen to sermons.
Sermons
.
.

Bibles We Recommend
There are lots of versions out there, some offering sometimes very extensive material of explanation, others for different age groups. Here you'll find some of our favorits Bibles, including one that you can listen to for free. Check it out
Scripture
Train yourself to be godly.

- 1 Timothy 4:7